Agricultural plays a vital role in India, it's the largest field of several industries that offers employment opportunities to the people of rural and urban areas. At the present time, agriculture is becoming the most popular career option among the students, after clearing their secondary education and also entering the undergraduate courses. Agricultural is said to be the backbone of the Indian economy, as it's the first component in a cycle that runs other businesses. If it wasn't there then no commodities would have existed which could result in no progress and ultimate end.
In most parts of India, agriculture plays a vital role. People in the rural areas are completely dependent upon agricultural practices, they perform either on a large or small scale for their livelihood. Agriculture is responsible for meeting the food and nutritional security in the country or the world.
Scopes in the field of Agriculture: -
1. Educational scopes: -
If you are a student and looking for graduation and post-graduation scopes in Agricultural education, here are some courses that you can pursue. Education in agriculture is said to be more productive in the future, which can get you some higher-level job benefits.
1. Bachelor of Science in Agriculture: - students who completed their class 12th with at least 50% marks from the biology stream can apply for this program. This program is a 4 years course focused on practical experience and research development in the field of agriculture science.
• Bachelor of Science (Honors) in Agriculture
• Bachelor of Science in Agriculture with MBA (Integrated course 5years)
• Bachelor of Science in Crop Physiology
2. Master Courses (M.Sc):- MSc Agriculture science is a 2-year post-graduation program that is pursued deep knowledge or specialization in a particular field like agronomy, soil science, plant physiology, and entomology, etc.
• Master of Science in Agriculture
• Master of Science in Biological Sciences
• Master of Science in Agriculture Botany
3. Doctoral Courses:- this is a doctorate (PhD) in agriculture science, this program is a 3 years course mainly focusing on research areas for a particular subject chosen by the student. It covers agronomy, entomology, plant physiology, etc.
• Doctor of Philosophy in Agriculture
• Doctor of Philosophy in Agriculture Biotechnology
• Doctor of Philosophy in Agricultural Entomology
"Presently, the demand for trained professionals is high in the agriculture field".
4. Some certification courses are also available:-
• Certificate course in Food & Beverage Service
• Certificate course in Bio-fertilizer Production
2. Career/Employment scopes:-
Agriculture has a bunch of employment opportunities. A student who is surprisingly intelligent and good in studies can either go for a government job or private sector or can start their startups. Self-employment opportunities are also in availability and many startup companies are emerging and thriving in this field.
The agriculture field offers highly paid employment/ self-employment in food science, Animal husbandry, hydroponics, horticulture, poultry farming, seed science, and fertilizers, etc. Among which dairy and poultry farming and horticulture, can generate higher income as they are essential daily life necessities. Horticulture activities can improve aesthetic appeal to your hotels, hospital, airport, and many other properties which bring more people to you and generate quality income. Apart from employment sectors, there is a huge scope of innovative and prominent start-up ideas, which are also becoming the priority of every learner.
Some of the job opportunities are mentioned below:-
1. Agricultural Scientist
2. Agricultural Inspector
3. Agricultural Engineer
4. Agriculture Officer
5. Agronomist
6. Agricultural Food Scientist
7. Agricultural Manager
8. Aquatic Ecologist
9. Arborist
10. Conservation Planner
11. Crop Specialist
12. Farm Manager
13. Food Microbiologist
14. Forester
15. Fertilizer Sales
16. Food Researcher Representative
17. Horticulturalist
18. Plant Geneticist
19. Production Manager
20. Silvicultural Researcher
21. Soil And Plant Scientist
22. Soil Surveyor
23. Soil Engineer
24. Water Conservationist
Govt. Jobs:-
1. UPSC (Indian Forest Service) IFS.
2. National Dairy Development Board
3. Staff Selection Commission (SSC)
4. Food Corporation of India (FCI) Job
5. IBPS Specialists Officer (AO)
6. National Bank for Agriculture and Rural Development (NABARD) Jobs
3. Overall scopes in Agricultural field:-
1.Generates employment opportunities:-
agriculture accounts for 16% contribution to the total gross domestic product (GDP) of the country. Two third of the Indian population depends on Agricultural for their bread and butter and mostly the population of the rural areas. It also generates employment for the rural and semi-rural areas and is contributing around 58% of the country's total workforce.
2. Contribution in export:-
The agriculture sector is responsible for 15% of the total export income/revenue. It provides raw materials to every industry from texting to pharmaceuticals. India occupies the position of the largest producer of pulses, spices, tea, milk, etc. Also holds the position of the 2nd largest producer of wheat, rice, cotton and oilseeds, and sugarcane. Which generates the quality of income and revenues from the export in India.
3. It's the life source for the rural areas:-
People living in rural and semi-rural areas are largely dependent on diversifying Agricultural activities for their livelihood. As they are not much sufficient than the people of urban areas in case of wealth, so Agricultural provides them with their suitable market and functioning in a society where they can earn and eat easily with cultivation and marketing strategies.
4. Responsible for Food Security of the country:-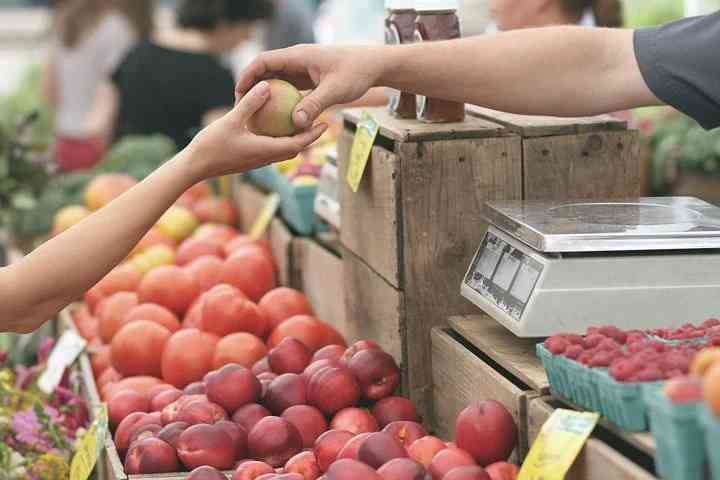 If the primary wall is strong then nothing can break into it, similarly, the Agriculture sector of a country must be strong enough because it's our genuine responsibility to protect the security of food. When food security isn't strong and lacks in Even 1 of its 5 components [ availability of food, access to the food, utilization of food, stability, and malnutrition] then this describes as the nation's active, physical health life aren't good. Uprooting poor food security will uplift you as a nation and also uproot poverty and unemployment which are the important topics of concern.