Nick Vujicic was born on December 4, 1982, in Melbourne, Australia. He is popularly known for being an Australian famous motivational speaker who was born with tetra-amelia syndrome, this condition is responsible for the malfunctioning of Arms and legs, although he was a healthy baby but had no arms and legs due to the syndrome. Instead of legs, he had two small feet (drumsticks). This made his parents so depressed and worried about his survival.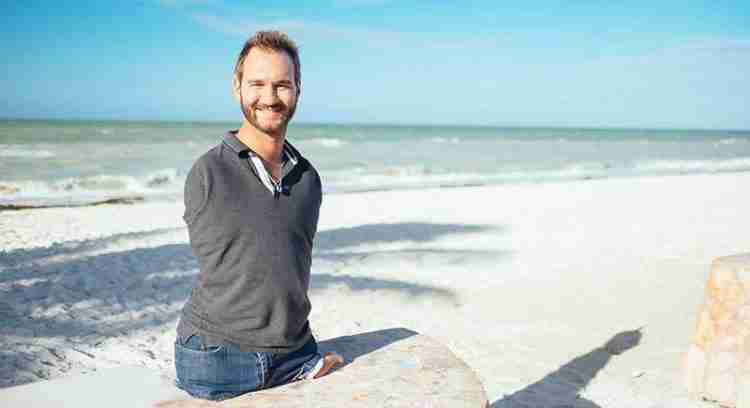 Dushka and Boris are the parents of Nick and has two offspring, Michelle and Aaron. In childhood when he has first attended a school because of some physical disability lows, it made him an easy target for bullies of the school who humiliated him. This drew him into a severe depression.
When he was at age of eight, he even thought about attempting suicide and even tried by drowning in a bathtub at the age of 10.
But as like every child, his love and care for his father and mother didn't allow him to do so. Instead, he rather believed that If God has given him this life then God has some interesting plans for him.A time came when Nick prayed deeply from the bottom of his heart, wishing if God could serve him mercy and bless him with arms and legs and take his disabilities back, Also made a statement falling hopeless if his prayer wouldn't be answered, he would stop praising him indefinitely.
Once his mother took him and told him to see a newspaper that had an article regarding a man struggling hopefully, coping up with his grievous physical abnormality or disability. This changed him as a person and changed his perception towards life, and this became his key Turning point.
He realized he wasn't the only one struggling if someone else could embrace his grievous physical abnormality then why can't he and then he embraced his disabilities. After this, Nick realized his life should worth inspiring and his achievements must inspire others and became grateful for whatever he got in his life faith helped nick to gradually find out a way to live life to its fullest even with disabilities.
At the age of 17, his school janitor told him that kid you are going to be a great speaker he suggested to him that he should tell his life stories to people all over the world. Later he gave his first speech in front of 6 people to go for public speaking and created his own non-profit organization "Life Without Limbs" which became a medium to perform at his life stories. And today he is the most preferred motivational speaker, he has travelled to sixty countries and inspired more than 3000 people and counting is still on.
Here are some popular quotes by Nick Vujicic that have changed many lives: -
It's a lie to think you're not good enough. It's a lie to think you're not worth anything.

The challenges in our lives are there to strengthen our convictions. They are not there to run us over.



Risk, is not just part of life. It is life. The place between your comfort zone and your dream is where life takes place.

Having faith, beliefs, and convictions is a great thing, but your life is measured by the actions you take based upon them.



Adjustments are necessary along the way because life isn't always rosy, but it is always worth living.

This life isn't a piece of cake for all of us, nobody would dream to have a life without arms and legs, people call it curse but won't even put effort to make it a gift but he accepted what life gifted him. We should learn from him that whatever comes to us as life we should not keep complaining about it. Rather, we should accept however it is and figure out ways to make it better and inspiring. There will be tons of disappointments and tons of opportunities to keep ourselves moving forward. Show some courage and do what we love because if we love what we do then hard work wouldn't be hard and dreams wouldn't be so far.